Kitchen Design
Kitchens are the heart of the home and professional design and planning is essential to ensure the successful balance of efficiency and hospitality.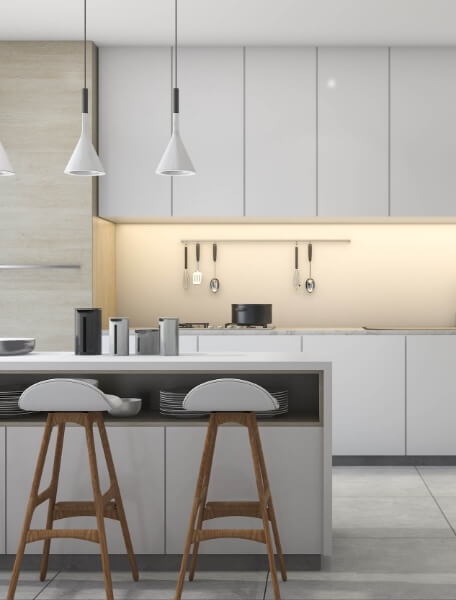 Meli Studio's Kitchen Design service delivers our clients the confidence of an investment in planning a timeless design, resulting in a space that will support memorable events and celebrations to cherish. After an initial telephone consultation with our designers, we will organise to meet with you at your home to confirm the desired style, intent and functionality brief and budget of kitchen joinery, accessories, appliances and services relocation scope of the kitchen area. To design your look and feel with key image presentations of inspirational design spaces, we will complete a laser site measurement plan of the space and critical heights of ceiling, window elements, and any other measurements we will need, as well as photographic documentation of the internal areas of the project. We will also discuss and guide you in the client's responsibility, including selection of all appliances and project timeline.
After completing the initial concept design and CAD documentation, as well as, the finishes and fittings research, we will present at our Studio at Kirribilli Marina:
Initial schematic design boards to include our initial joinery hardware, tapware and fixtures
(2-3) Proposed CAD Layouts
Key Elevation Reflecting Materials & Fixtures Recommendations
Conceptual CAD 3D Renderings
Following approval of the final plan layout and key concept and receipt of the final selection of all appliances by the client, our last design meeting at our Studio will include the final Material Samples & Fixtures Schedule including:
Joinery hardware, tapware and fixtures specifications
Final CAD layout and elevations
Final CAD 3D Rendering documenting the final recommendations for all design proposals, with a 10% revision of design selections allowed
Meli Studio's Kitchen Design service is available today. We offer packages if you wish to include a second wet area space, either a laundry or butler's pantry and all additional specialty areas or joinery items eg: a Media Room or Office area can be packaged at a reduced fee. Fixtures & Fittings are quoted at Trade Discounts plus 20% for project management, reflecting trade coordination and site visits. Fixture procurement & project management included in quoted item costs, purchased and provided by Meli Studio. Please note that this design service is for interior design consultation. It excludes any building, plumbing, joinery costs. We have an extensive network of trades that will partner to bring your kitchen design to fruition. All are licensed and carry the necessary insurances, and will quote you separately for their services.